18 February 2020
Betwixt is HERE!!!
Divorced,desperate, and destitute, former restaurateur Defiance Dayne finds out she has been bequeathed a house by a complete stranger. She is surprised, to say the least, and her curiosity gets the better of her. She leaves her beloved Phoenix and heads to one of the most infamous towns in America: Salem, Massachusetts.
She's only there to find out why a woman she's never met would leave her a house. A veritable castle that has seen better days. She couldn't possibly accept it, but the lawyer assigned to the case practically begs her to take it off her hands, mostly because she's scared of it. The house. The inanimate structure that, as far as Dephne can tell, has never hurt a fly.
Though it does come with some baggage. A pesky neighbor who wants her gone. A scruffy cat who's a bit of a jerk. And a handyman bathed ink who could moonlight as a supermodel for GQ.
She decides to give it three days, and not because of the model. She feels at home in Salem. Safe. But even that comes to a screeching halt when people begin knocking on her door day and night, begging for her help to locate their lost objects.
Come to find out, they think she's a witch. And after a few mysterious mishaps, Dephne is beginning to wonder if they're right.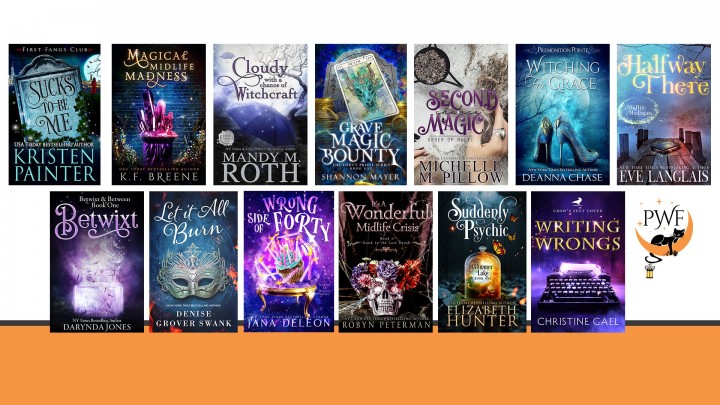 #PWF is a new genre, and me and my author peeps are super excited to kick off today.
It's a revolution.
It's a call to arms.
It's women writing heroines that the world needs.
There IS something magical about hitting your 40s. Whether you're there already, you're peeking around the corner, or you've blown way past it, these stories are for you. Women over 40 have new challenges, but we also have new superpowers like confidence, wisdom, perspective, and reading glasses.
These AWESOME novels by my buddies, Mandy M. Roth, Shannon Mayer, Michelle M. Pillow, K.f. Breene, Jana DeLeon, Kristen Painter, Robyn Peterman, Deanna Chase, Denise Grover Swank, Eve Langlais, Christine Gael Bell and Elizabeth Hunter will keep you wanting more.

Happy Reading!
Visit the Paranormal Woman's Fiction site today to find more amazing stories!